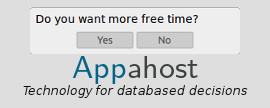 If it's not measured, then it's not managed. Well, after you measure something, where do you put the measurement? You place it into a perfectly modeled enterprise application. You place it there because your orgainzation runs on its information system.
Enterprise applications
One fact, one place is an information system principle. An enterprise application centrally stores each new fact as it comes down the pike. On the other hand, departmental applications have to duplicate new facts. Otherwise, information silos will form.
Appahost will initially design and prototype your enterprise application for free. You can take the resulting diagrams and screen demonstrations to other developers, no strings attached. We are confident you will return to us to finish it. Upon completion, you can run your application locally, or save the hassle by running it at Cloudacus.
Bookkeeping on-demand
Additionally, Appahost may do all or some of your bookkeeping. Scan and transmit your receipts, bills, and deposit slips. Upload your bank statements for reconciliation. Bank reconciliation is our specialty. We will keep your financial statements accurate up to the second and down to the penny. (Well, during business hours.)
Your privacy
You have a legal expectation of privacy. Protecting your privacy is the key to our success. Our platform is the LAMP stack. Every level in the stack is open-source and has time-tested security. Appaserver, our core server, has been successfully running at the Everglades National Park since October 25, 1999.
PredictiveBooks
Learn more about our premier application -- PredictiveBooks.